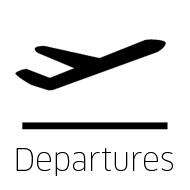 This page contains information for Live Newcastle Airport Departures. Hundreds of flights per week depart to destinations throughout the UK, Europe and Worldwide. This guide keeps you up to date with flights and flight times.

Newcastle Airport Arrivals is an unofficial guide and we rely on third parties to supply us with up to date information on flights leaving the airfield. If you are unsure or would like further information about a flight you are about to catch we recommend that you contact the airport or your airline direct. We can not be held responsible for any wrong or out of date information on this site.
Catching a flight is often an exciting time as your end destination can often be for a well-earned rest or holiday.  Some departures may be for a business trip or to visit friends and family so keeping up to date with times via our live feed will ensure you are kept up to date with live delays and information.
This website is part of a series that offer information on flights arriving and departing major UK airports.  For more information on our partner sites see our other sites page.