Taking the Tyne and Wear Metro to Newcastle Airport is a good option.  The Metro system is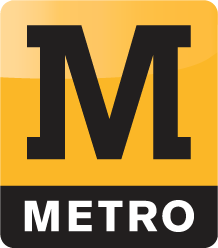 a light railway that links all areas of Tyne and Wear.  The system consists of 60 stations that serve the city of Sunderland, North and South Tyneside and Newcastle.
The Metro is one of the UK's most efficient modes of transport and has served the area for over 30 years.  Over 40 million passengers use the system every year making it an easy option when traveling to the airport.  The metro station is situated close to the main terminal building so you do not have far to walk when arriving or departing the airport.
Metro to Newcastle City Centre
The journey to the city centre of Newcastle takes around 25 minutes taking in stations such as Gosforth, Jesmond followed by the city centre stops of Haymarket, Monument and Central Station.  Trains depart every 12 minutes and run from 5.45am till almost midnight.
Sunderland by Metro
The journey to the city of Sunderland takes around 55 minutes with trains leaving every 12 minutes.  The long journey takes you through Gateshead and on to the city of Sunderland.
For more information on the Tyne and Wear Metro system please visit the Nexus website.  Please remember to purchase a ticket before boarding a train and enjoy your journey across Tyneside and Wearside.