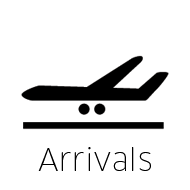 This page provides you with up to date flight arrival information for Newcastle International Airport. The page for Live Flight Arrivals Newcastle Airport offers the most up to date live flight information for flights arriving and leaving the Airport.  Refresh this page in order to get the latest flight information.
We bring you information on live flight arrivals at Newcastle Airport
Hundreds of flights per week depart and arrive and Newcastle International Airport serving a host of destination both in the UK and overseas.  Our guide will keep you up to date will all Live Flight Arrivals Newcastle Airport so that you do not miss a plane arriving.
The airport is a bustling hub of activity and often flights are delayed so this page can help you keep track of the ins and outs of the airfield.  It is used by many major airlines and serves the North East of England and even parts of the North West and Scotland due to its location.
This is the unofficial guide to Live Newcastle Airport Flight Arrivals and we can not be held responsible for any delayed or incorrect information.  Only the airport or the airline can give you exact information so if you have any concerns about the timings of flight arrivals then contact them direct.
If you are waiting for up to date flight departure information see the live flight departures page.